Farm & Nature Summer Program for 3-6 year olds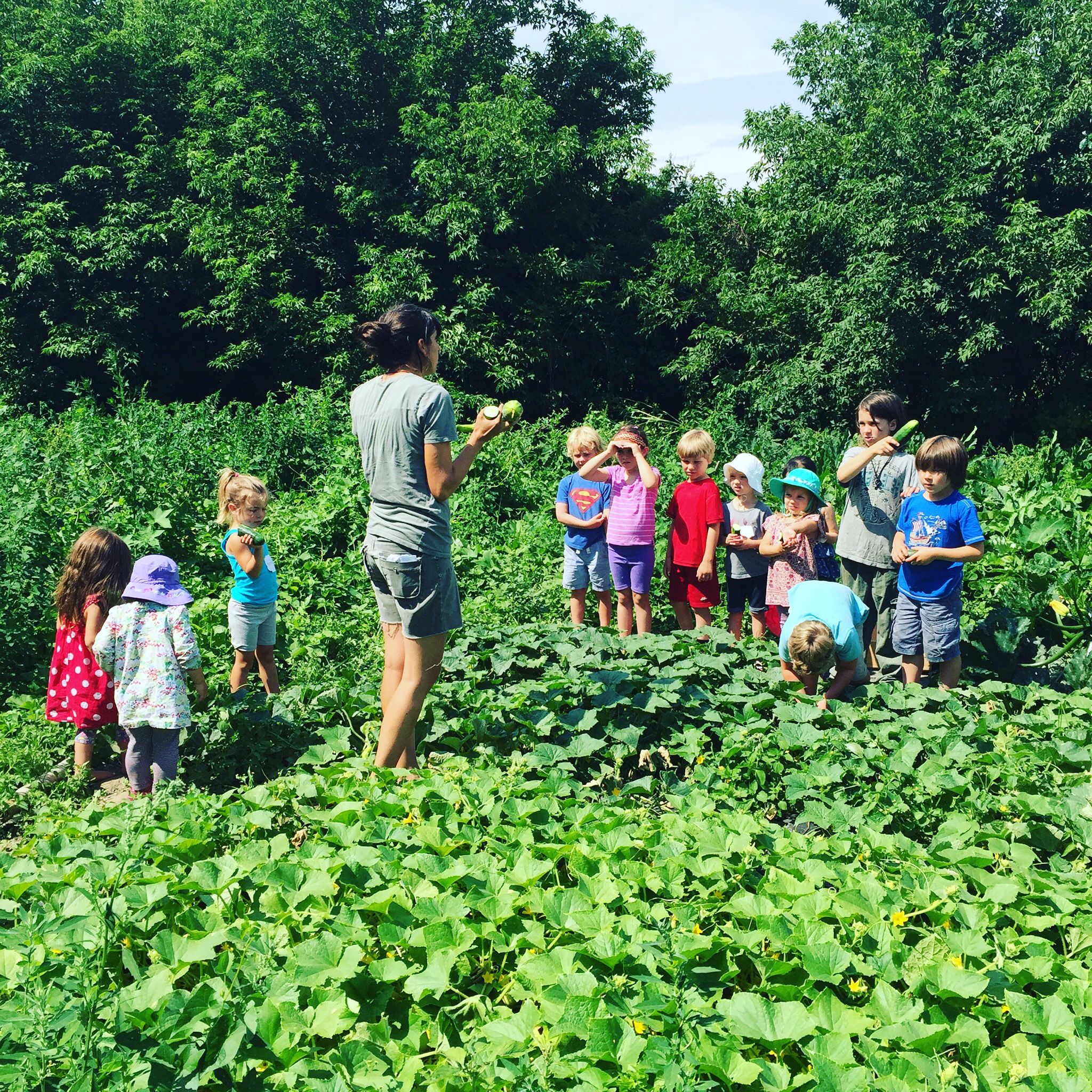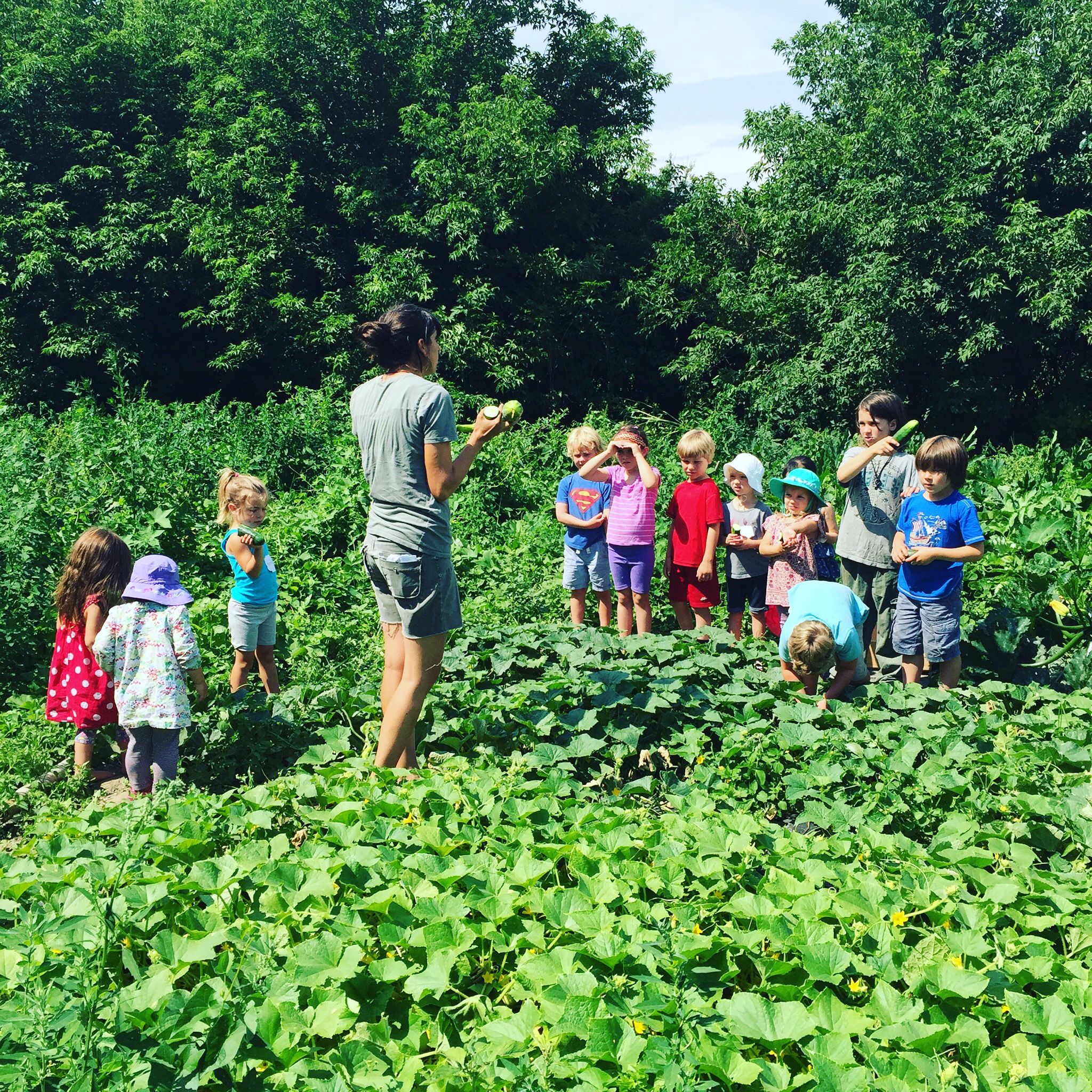 Farm & Nature Summer Program for 3-6 year olds
Weekly, Tuesdays, Thursdays & Fridays: June 13th-September 1st
(3 Sessions: choose 1, 2 or 3 sessions (see dates below), either 1, 2 or 3 days/week)
This summer, join us as we explore and celebrate the woods, fields, and waters of Golden Well Farm and Apiaries. Nature becomes our classroom, living room, and playspace as we build strong connections to the land and to each other. We'll sing songs, give thanks, tell stories, make art, play games, build forts, and go on adventures with curiosity as our guide. Weaving hands-on experiences with the world of imagination, we'll strengthen the threads that connect us to the web of life.
The Day at a Glance:
8:30 Drop off: Arrive, settle in, play games.
9:00 Sing songs and share gratitude.
9:30 Farm-harvested snack time and time to explore what's happening on the land: Smell this flower! Is that a turtle over there?! That gray squirrel just disappeared into a hole in the Silver Maple!
10:00 Activity of the day
12:00 Lunch time
12:30 Activity of the day
1:45 Sit Spot (Each child finds a special spot to settle into and observe the world around them.)
2:00 Share stories of the day. Mentor tells a longer story.
2:30 Pick-Up
NOTE: Choose option to add FARM CAMP to include the full week of FARM CAMP July 3-7th at a discount rate (normal cost $250/week). Please read FARM CAMP description for more info.
VACATION DATES: July 10th-14th (no camp!)
choose number of days or "fun pass":
FULL SUMMER OR CHOOSE SESSION:
RATES FOR THE SUMMER PROGRAM ARE AS FOLLOWS:
PLUS, NEW FLEXIBLE OPTION for families on the go with our:

"FARM FUN PASS"
SIGN UP FOR 6 DAYS THROUGH THE SUMMER FOR $300 or 8 days for $375
(choose "fun pass 6 or 8 days" on drop down)
(please note, if you sign up for the full summer, we are able to pro-rate up to 4 missed dates if we are told of your schedule ahead of time. payment plans and partial scholarships available. please inquire.)
DATES/Times:
Program runs Tuesday, June 13th thru Friday, September 1st.
Mid Summer Break: July 10th-14th (no camp)
Session 1: 6/13-6/30 (3 weeks), Session 2: 7/17-8/4 (3 weeks), Session 3: 8/8- 9/1 (4 weeks), All 3 Sessions (10 weeks)
Drop off at 8:30am, 2:30pm pick up
July 3rd-7th Farm Camp Week (see note above)
A note about late pick up: Parents will be charges $1/minute/camper for late pick up. Please don't be late! Please also observe speed rules of 5mph on the farm.
Other details:
kids bring lunch, we provide fresh-harvested farm snack
sign up will be for whole summer, 1, 2 or 3 day options, price reduces if sign up for all three
payment plan is available
We'll be hosting Grandparents/Elders visits / special guests: schedule TBA
Family involvement: closing circle, potluck campout night details TBA
About the Teacher/Director:
Lauren Aiken is an educator and musician, committed to building and nurturing community that's rooted in connection to each other and to the land. She has been sharing her passion and love for the natural world with children for over 7 years. As a nature-based educator, she weaves song, story, games, crafts, and mindfulness to create an educational container that helps students connect to their authenticity, cultivate compassion, and feel at home in the natural world. She began her journey with nature-based education when she completed a year-long internship at the Earthwalk Village School in Plainfield, Vermont. She went on to work as a Lead Mentor for the Crow's Path Field School in Burlington, Vermont. She served as Crow's Path's Director of Youth Programs from 2014-2016. She also facilitates creative songwriting workshops for elementary schoolers, empowering students to use their own experience and imagination as inspiration for crafting original songs. Lauren is both Wilderness First Aid and Lifeguard Certified.
Lauren's Contact Info: Phone: 505-228-3741 E-mail: Lionakin@gmail.com
Lauren will be accompanied by a second teacher each day. Details/bio tba.